Physical Inventory – Limit the Interruptions to your Business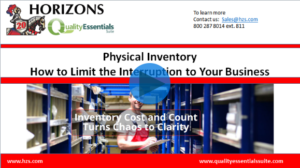 The Physical Inventory process can be an intrusive one. But if you plan and execute it with a little forethought, you can reduce the burden on your business.
Inventory is a significant risk for manufacturers. In this 4 minute video we provide key suggestions matched to your manufacturing type to help reduce that risk.
Not everything we track to manage our business better is sourced in our accounting package. Sometimes data like temperatures, or heat treat id or country of origin are critical for conforming to our customer requirements. So where can we keep this data reliably and then analyze it quickly for process improvement? Try using the datatypes and dashboards in Quality Essentials Suite to help you get the best results from your results.