Perpetual Inventory Management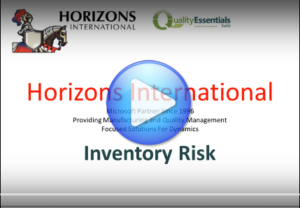 IT IS ALL ABOUT INVENTORY!
At the core of manufacturing success is inventory.
At the core of manufacturing risk is inventory.
Most manufacturing employees, whether in leadership roles or in the rank-and-file, are familiar with our first core tenet. The first time they run out of material, they are made painfully aware of our second core tenet. This means that, in the real world, keeping track of inventory is a highly-critical task for everyone.
The business challenge is, "When should your organization shift from manual, paper, or spreadsheet-based tools into a fully-integrated perpetual inventory solution?"
Take our Quiz
But ARE YOU READY? Let's find out – download and complete our quiz to find out if your organization can benefit from integrated perpetual inventory.
Three Benefits of a Fully-Integrated Software Solution
The "Two For" Benefit

Integrated software solutions provide a "two for the price of one" benefit. This is because every transaction that affects an inventory item also generates the correct accounting transaction, so your decision-making data is always real-time and accurate. Month-end processes close more quickly.




Meaningful Physical Inventory Results

Without real time inventory transactions to mirror the events of your processes, your physical inventory is nothing more than a snapshot in time. Real-time tracking with integrated solutions mean you can identify what your expected counts should be and you can monitor how effective your business process controls really are by examining the returned accuracy of the counts.

Quality Improves

Investigating the reconciliation tasks from physical inventory will highlight issues in your processes that need to be fixed. Comparing year over year counts for high value and high count items will help identify which products are moving most rapidly. This is also the opportunity to consider if safety stocks are hiding vendor issues.

Learn More about Quality Managment